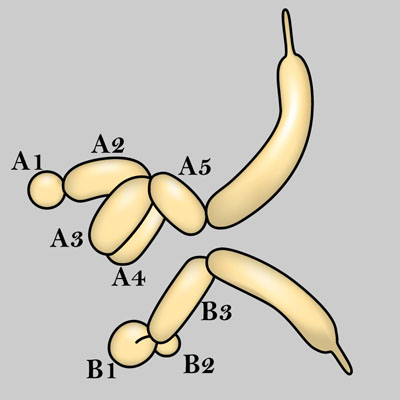 A1(4cm),A2(8cm),A3(9cm),A4(9cm),A5(6cm)
B1(6cm),B2(3cm),B3(10cm)
Balloon "A" is arms and body.
Balloon "B" is legs.
B1 is a small loop twist. B2 is a pinch twist.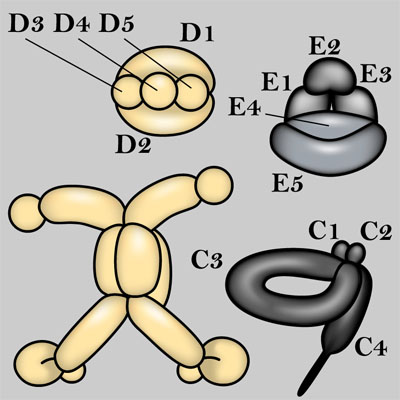 C1(3cm),C2(3cm),C3(30cm),C4(12cm)
D1(7cm),D2(7cm),D3(3cm),D4(3.5cm),D5(3cm)
E1(3cm),E2(3cm),E3(3cm),E4(7cm),E5(12cm)
Balloon "C" is the MAWASHI (Japanese pants).
C1 and C2 are pinch twist. Push the legs and lower body into the loop twist(C3), then from the back to the front attach C4 under the body. Pierce the tail of C4, from between the front body to C1.
Balloon "E" is the MAGE(Japanese hair style) .
E2 is pinch twist.
Use an uninflated black balloon to attach the head to the body. Tie one end around E2, then pierce between D and E, to the top of the body.
Wedge arms downwards.