Balloon Oyaji and Rio have published four books about twist balloon. You can buy all of them from "Naranja Balloon Company" .
about my name:
My real name is Yoshitaka MINAMI. And as a balloon performer, I am "Balloon Oyaji".
"Oyaji" means father or middle aged man who is dowdy.
"BAO" is shortened name of BAlloon Oyaji.
Rio is my best partner.
auto-translation system mistake:
In the site of Naranja, there are some mis-translation caused by machine-tranlation-system.
So check the name of my book.(original Japanese/English meaning/auto-translated name)
Italic named figures are also on my fan site . But in the book there are so many more beautiful photos !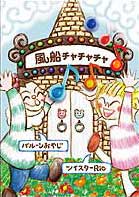 first book(Fusen Chachacha/Balloon Chachacha/Balloon cha-cha),ISBN4-931571-12-3
contents: anpan-man, shokupan-man, currypan-man, Snoopy on the airplane with Woodstock, little Snoopy with Charlie,
Snoopy wearing as Santa Claus, Woodstock with red hat on the gift, big sled, big reindeer, big Christmas tree, small Santa Claus,
small sled, small reindeer, small Christmas tree, hina-dolls for Japanese girls' day, samurai helmet, carp streamer for Japanese boys' day,
small cake, big cake, sushi, beer, soy beans, croissant, arms of cuttlefish, Japanese tea ceremony, faucet with water, space shuttle, astronaut,
large skelton of dinosaur with baby.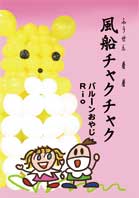 second book(Fusen Chakuchaku/Balloon Chakuchaku/Balloon chakuchaku),ISBN4-931571-14-X
contents: Medama-oyaji, king's crown, princess's crown, knight (helmet, shield and sword), angel wing, devil wing, big hand, flower bracelet,
animal bracelet, swan and lake, ammonite hat, afro hat( download PDF file of easier afro hat ) , mask of oni(Japanese monster), Japanese beetle, Hercules beetle, mosquito repellent,
dumpling for the moon ceremony, portable shrine, Jack-o'-lantern, wedding couple of mouse, teddy bear with bouque, little bear, puppy,
vegetables a la carte, mushroom a la carte, fruits basket, stick cookie, popcorn, curl snack, soft ice cream, Linkochan(wearable big animal body)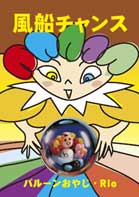 third book(Fusen Chance/Balloon Chance/Balloon chance),ISBN978-4-931571-19-8
contents:jeep, 350s' jeep, 646s' jeep, patrol car, ambulance, ladder truck, beach buggy, F1 car, truck, helicopter, ume(Japanese apricot),
cherry blossom, cherry tree, tulip, iris, carnation and butterfly, hydrangea, morning glory, sunflower, chrysanthemum, smile flower, rose,
rainbow rose, Japanese old colorful ball, Kabulinko(big mask: koala, hero, cat, pumpkin, rabbit, panda, bear, cock and chick)
fourth book(Fusen no Doubutu 1/Balloon Animal 1/One that balloon strikes very),ISBN978-4-931571-20-4
contents:armadillo, wild boar and her child, dolphin, his splash, rabbit, carrot, cow, calf, pasture, horse, wolf, hippopotamus, her child,
duckbill, kangaroo, fox, Japanese shrine gateway, giraffe, tall tree, whale, koala and her child with tree, bat, rhinoceros, thick grass, Japanese monkey, banana tree, small monkey, polar bear on glacier, elephant eating grass, racoon Japanese ceramic style, teddy bear, tiger, calico cat, kitty, fish bone, heterocephalus glaber, tunnel, panda, bamboo, sheep, grass, poodle, fennec, pig, straw house, wood house, brick house, meerkat, circle base, mole, lion, field, camel on desert, sea otter, squirrel holding a nut.
All figures' construction steps are in the DVD, that takes six hours.
---